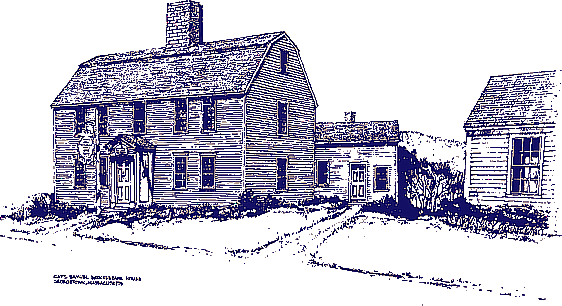 Hours
Sundays 2-5 PM, June through Columbus Day

Admission
$5.00 (Seniors & Students $3.00)

Location

108 East Main St (Rte 133 at the Elm St & East Main St intersection)

Directions

Special Tours

May be arranged by

emailing

us
The Brocklebank-Nelson-Beecher house is a First Period structure believed to have been built in the late 1600s. The land on which the house stands was granted in 1661 to Samuel Brocklebank a surveyor who, with his widowed mother and brother, left England and were among the first settlers of Rowley in 1639. The site was chosen near a brook where cattle were penned previously. The area is known to this day as "Penn Brook."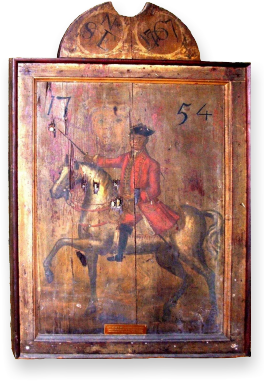 Captain Brocklebank and twenty-seven other militia men were killed in Sudbury in 1676 when ambushed by Indians during King Philip's War. The house remained in the Brocklebank family until 1755, when it was acquired by Dudley Tyler for use as a tavern. Solomon Nelson, who purchased the property in 1765, also kept a tavern here for many years and made substantial additions and renovations to the house. Solomon's son, Major Paul Nelson, acquired the property in 1811 and kept a store and shoe shop on the premises. In 1858 the house was purchased by Reverend Charles Beecher, brother of Harriet Beecher Stow and a controversial figure in his own right. An ardent abolitionist, he was the pastor of the Old South Congregational Church where, in 1863, he was tried and convicted of heresy. In 1869, Reverend Beecher sold the house to Melvin G. Spofford. It was purchased in 1931 by Everett Spaulding, a tenth generation Brocklebank descendant, and his wife, Mary, whose heirs sold the property to the Georgetown Historical Society in 1975 for use as a museum.
Several artifacts help to make the Brocklebank Museum unique. Upon entering the old Tavern Room, one encounters a restored "walk-in" fireplace which is said to be one of the largest in New England. The "Haunted Meal Chest" sits against one wall of the same room. Local legend holds that a young servant girl found that the large meal chest moved mysteriously whenever her skirt brushed up against it. The phenomenon lasted only a few days but made a lasting impression on all who witnessed it. The chest, which had passed hands to the House of Seven Gables in Salem was returned to its original hometown in the 1970s. Next to a stairway hangs the original tavern sign which features a red-coated soldier on horseback. Looking closely, the visitor notices several musket ball holes reportedly put there by Minutemen returning from the Battle of Lexington.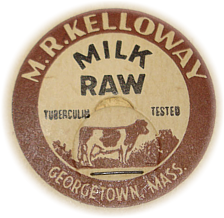 In addition, there are hundreds of mementos of Georgetown's past in the museum from the original railroad depot sign to china used in the famous old Baldpate Inn. The memory of the shoe industry is kept alive through numerous displays including a small back yard shoe shop which was a part of a cottage industry in Georgetown for generations.